How to get started with live chat
We have released our new live chat application for Continually! This means you can now talk live with customers when signed into Continually, without needing to connect a Slack account.
Everything you need to know to get up and running:
Where to find the live chat inbox
You can find the new live chat inbox by clicking on Live chat link in the top navigation.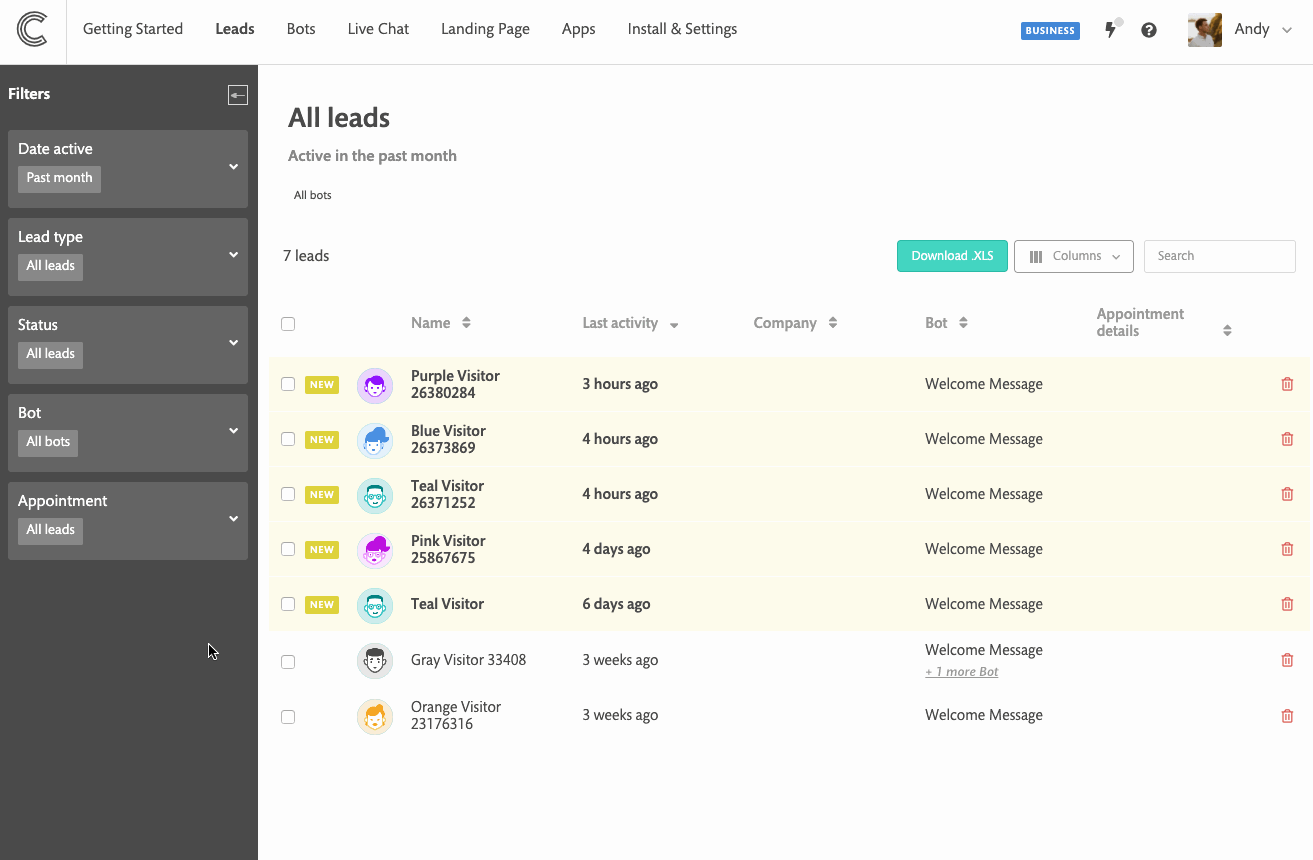 Where to find your live chat settings
Once you have clicked on the Live Chat link in the top navigation. On the left side, you will see a settings link, click this to go to your live chat settings.
How to turn live chat on / off
Once you are in the new live chat section, in the bottom left of your screen there is an on / off switch for live chat. This lets you easily switch live chat on and off when it suits you.
When switched off, this setting simply hides the live chat message field on Continually from your visitors so they can't send live chat messages. It also disables the input field in your live chat app so you can't accidentally send a live chat message to a visitor.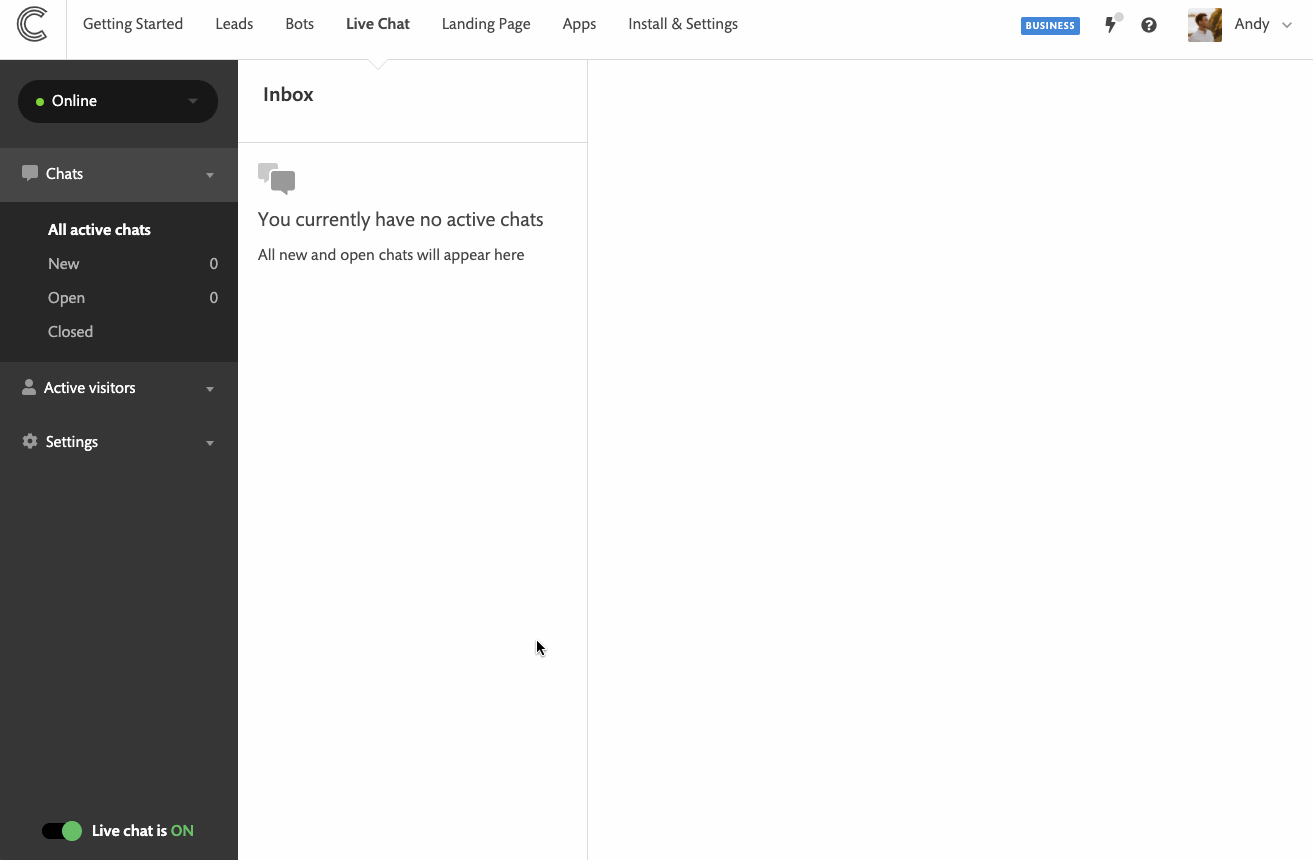 How to set your online / offline status
Once you are in the new live chat section, in the top left of your screen shows your online/offline status. You can change this at any time by clicking on the dropdown and selecting your preferred status.
Your online status is set per account but we check across all your team members status' before determining your team is offline.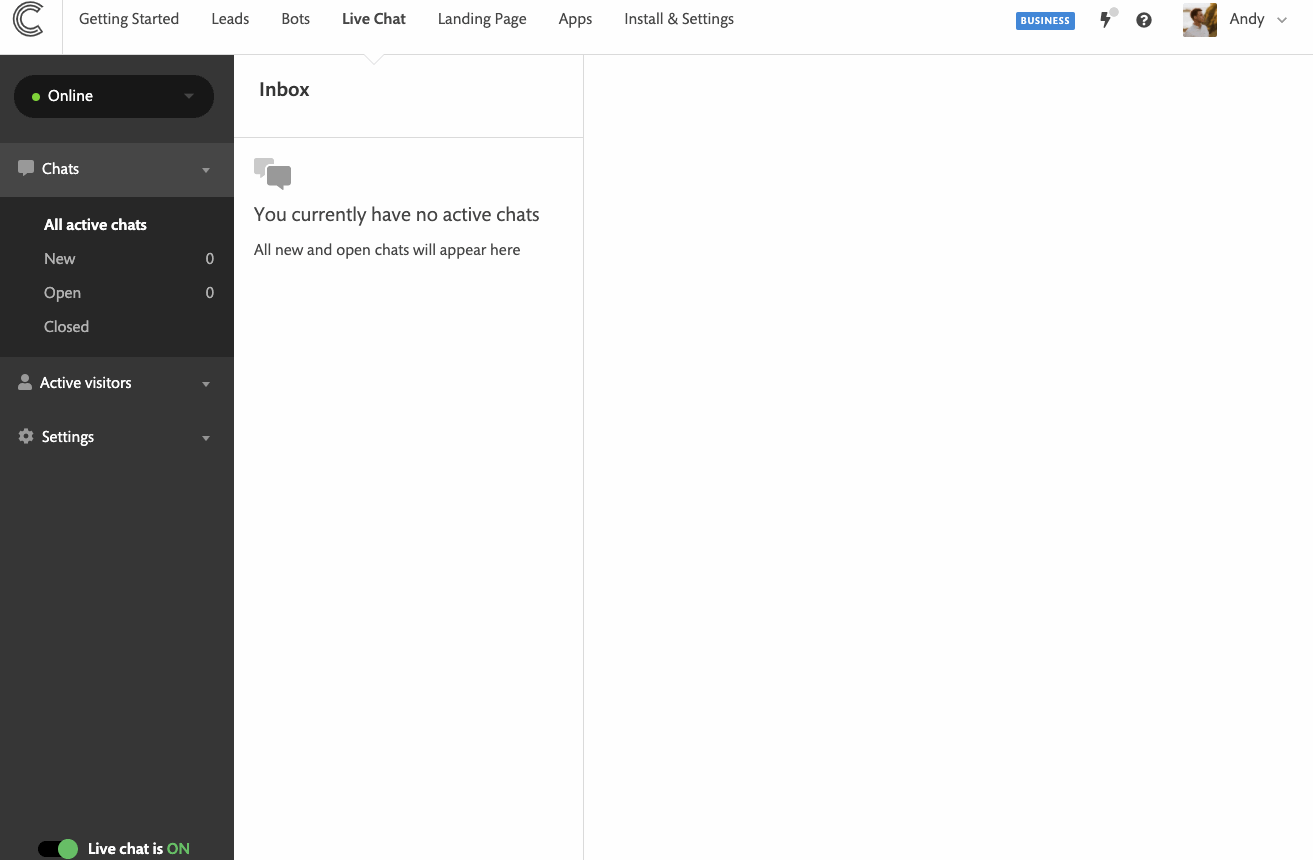 What if I am signed out?
When you are signed out of Continually your status will automatically be set to offline.
What effect does this have for me?
When your availability is set to offline, you will no longer receive any live chat pop up notifications even when you are still signed in and working on Continually.
What effect does this have for my visitors?
In your settings, you can choose to send automatic responses. We check to see if any of your team are online in order for us to determine which automatic response we send.
If your teammates are offline, we display a note above the message field for your visitors to say "We are currently offline, leave a message and we will get back ASAP". This helps your customers know not to expect and immediate response.
How to manage your inbox using chat status.
One new feature we implemented to help your support team keep on top of your live chat is chat status. We have added 3 labels to help you determine which customers need support right away and which conversations can be closed and removed from your inbox.
NEW - Chats that come in which have no response from you or your team (need attention)
OPEN - We automatically update the status to open once there is a response from you or one of your team (You or a teammate has responded but still may need attention)
CLOSED - This is a chat that has been closed by you or your team. Once closed it can be re-opened again. Closed chats will not be displayed in All active chats and will be stored in the closed folder. (No longer needs attention)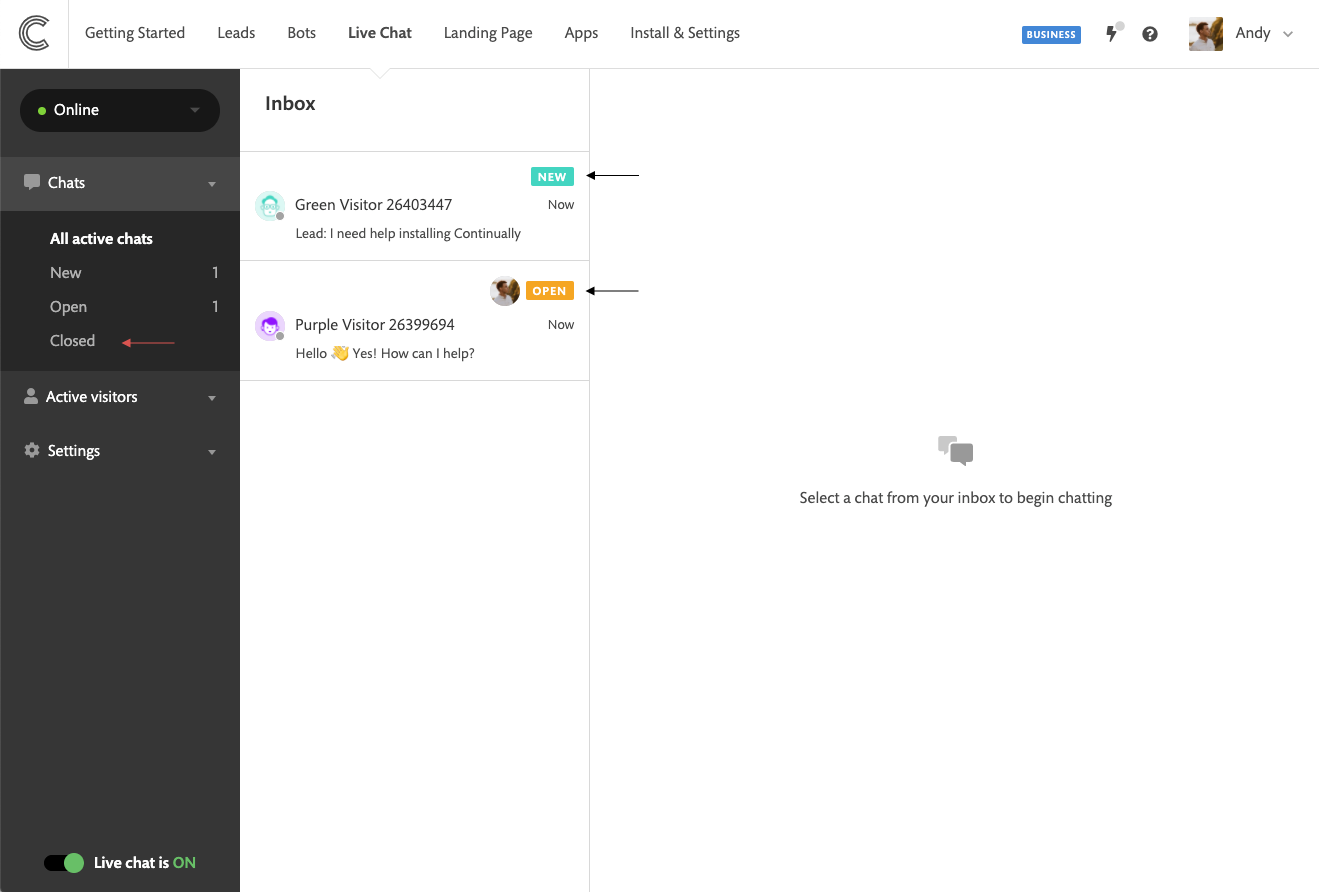 Customize your notifications and sound effects.
With our new live chat app, we have added some notifications to help notify you when someone gets in touch or starts using your bot. To control these notifications you need to go to the new live chat section, on the left click on settings, then select live chat settings.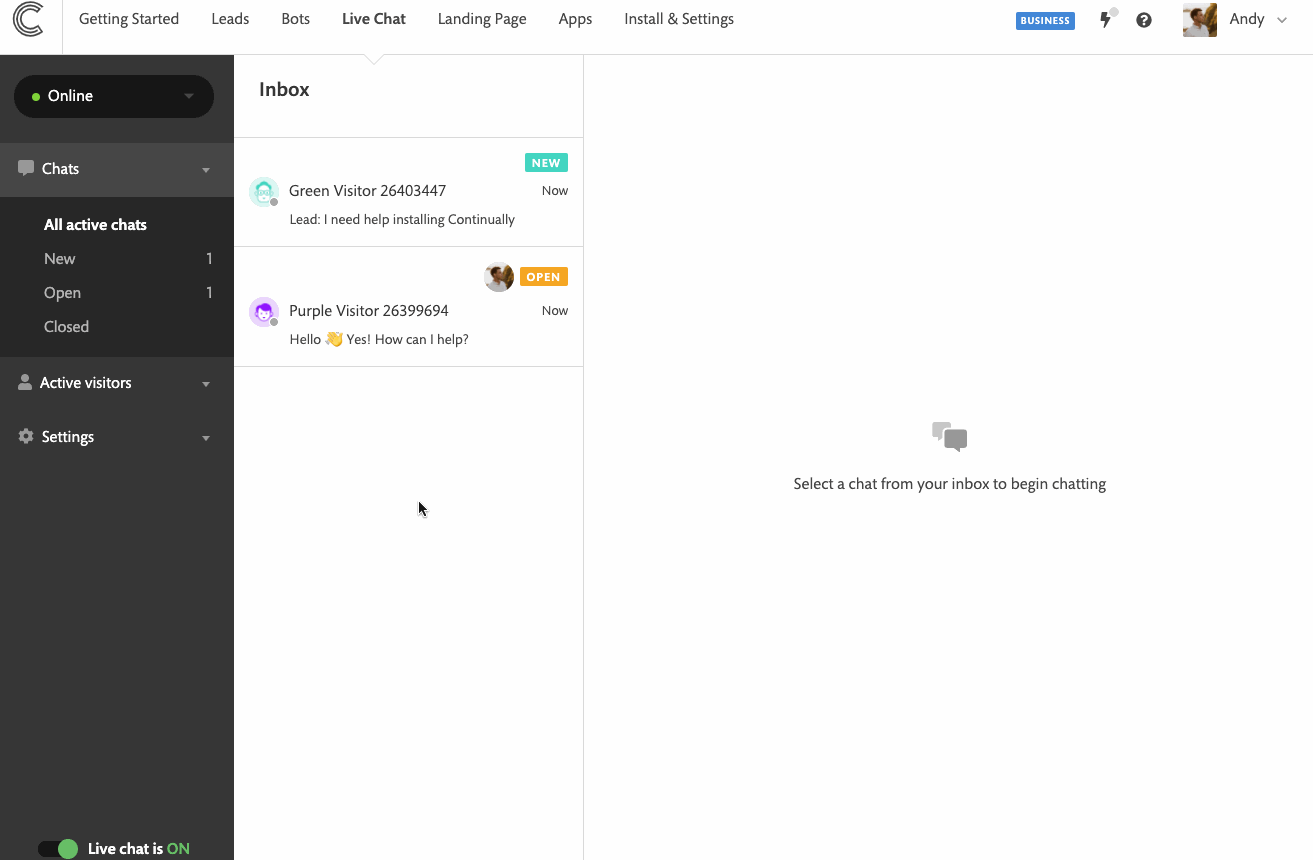 In app pop up notifications
These are notifications that appear on your screen when you go to another page in Continually outside of the new live chat app. These will link you to the chat directly so you can quickly start responding.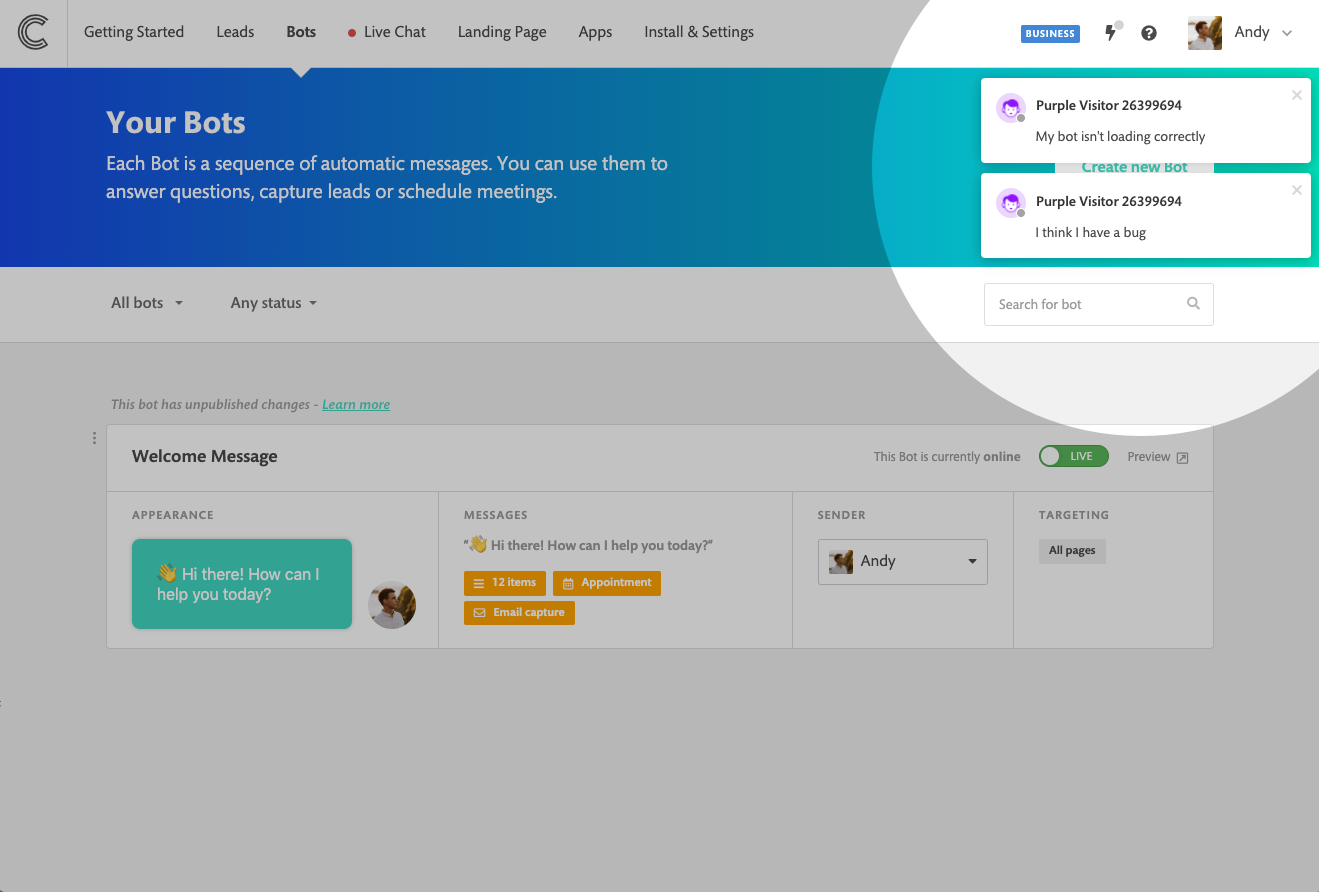 System notifications
These are notifications that are sent from your browser. Once you have system notifications enabled in your live chat settings your browser will then require you to give Continually permission to send these notifications.
This permission step will only appear when Continually tries to send your first notification then you will get a pop up asking to give permission.
System notifications

If you do not get this permission question and are still not receiving system notifications, you may need to go to your browser settings > permissions > notifications and check to see if you have blocked Continually from sending notifications.
Sound effects
We have added a sound effect for each of our notifications inside Continually which you can turn on / off. We have also added a sound effect for new messages that appear in your inbox. So if you are chatting with a customer and a second customer responds, we play the sound effect to alert you of their new message without sending a pop-up notification.
Start new conversation Button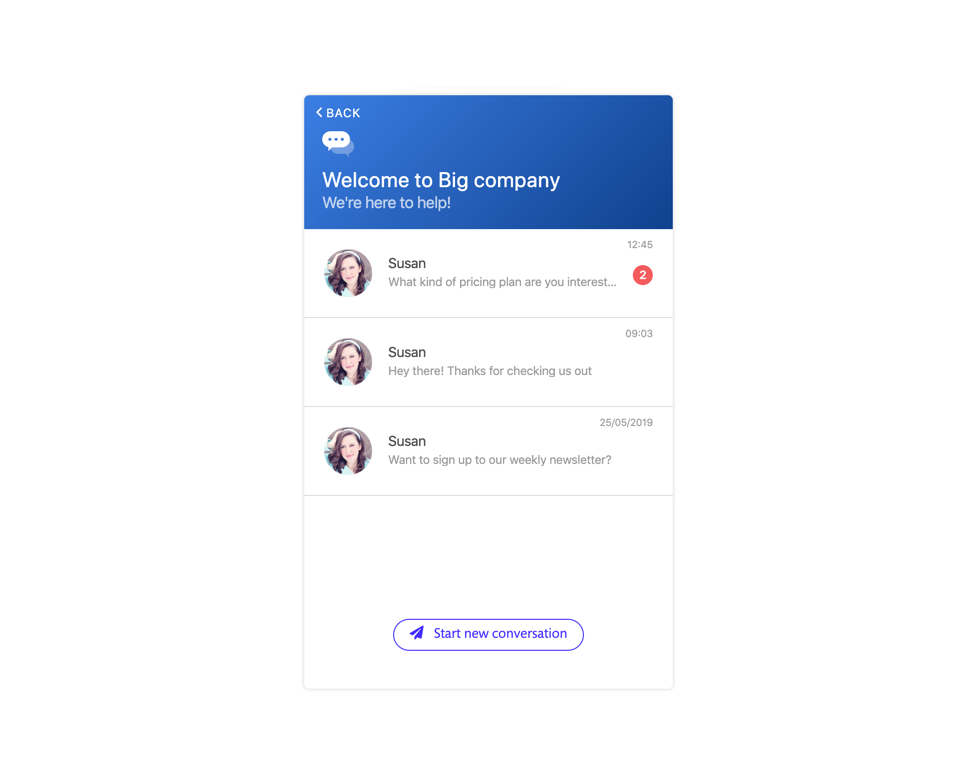 How to enable it?
In your live chat settings, there is a new option for you to enable this button. Once you have enabled it you are then able to assign any bot to that button. This means whenever a returning visitor comes back to your website, they can easily start a new conversation without having to return to an old one.
From your settings, you can also edit the placeholder text and color of the button on our sidebar home screen.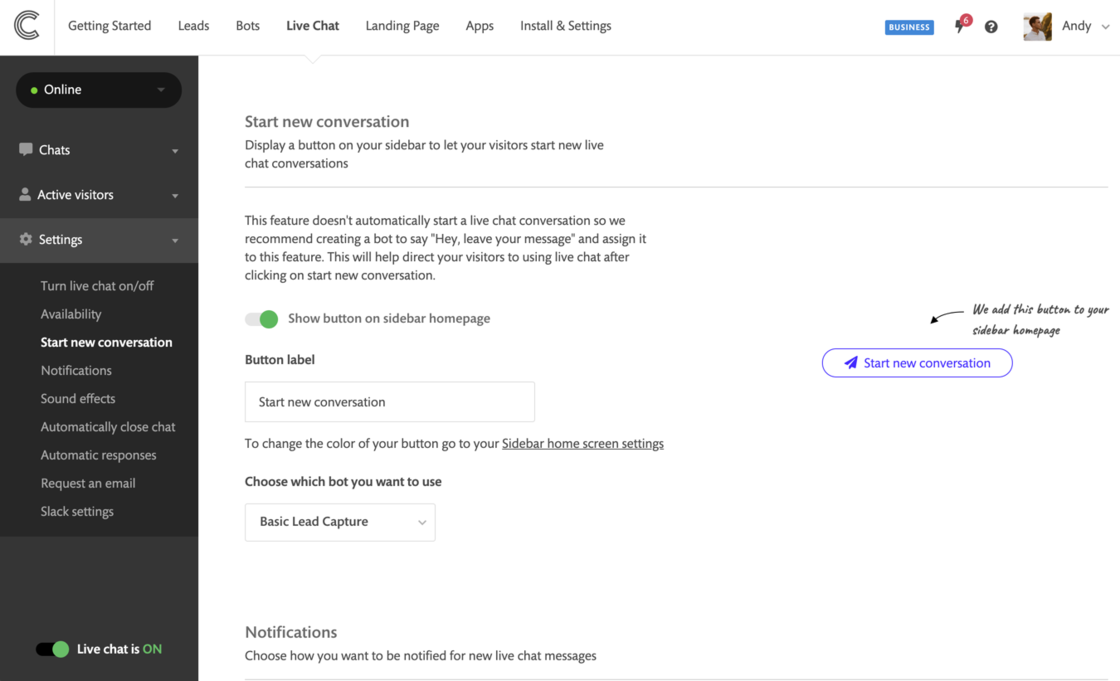 Using Slack with our live chat
You can still use Slack to message customers on your website. Simply connect your workspace and select a channel to send the live chat notifications.
Once you send a response on Slack, we will update that conversation in your Continually live chat inbox so you can always see when a teammate has responded in Slack.
Slack status
We have removed the ability to use your Slack status to determine your online / offline availability. We found the Slack status was not as reliable as we would have liked. Your status is not set by the online / offline switcher in the top left of the new live chat section.
Using commands
We have added commands for your to quickly capture lead information. To see the list of commands you can use just hover on the commands link to see a pop-out menu.
To use a command you can either click on the command from the pop-out menu, or you can type the command at the beginning of your sentence.
Once you have a command at the start of your message, you can customize the message that gets sent with it for example if you send:
/appointment

The default message for the /appointment will be "When suits you for a demo".
But you can edit that message by adding your own message after the command to look like this:
/appointment Choose a date and time that suits you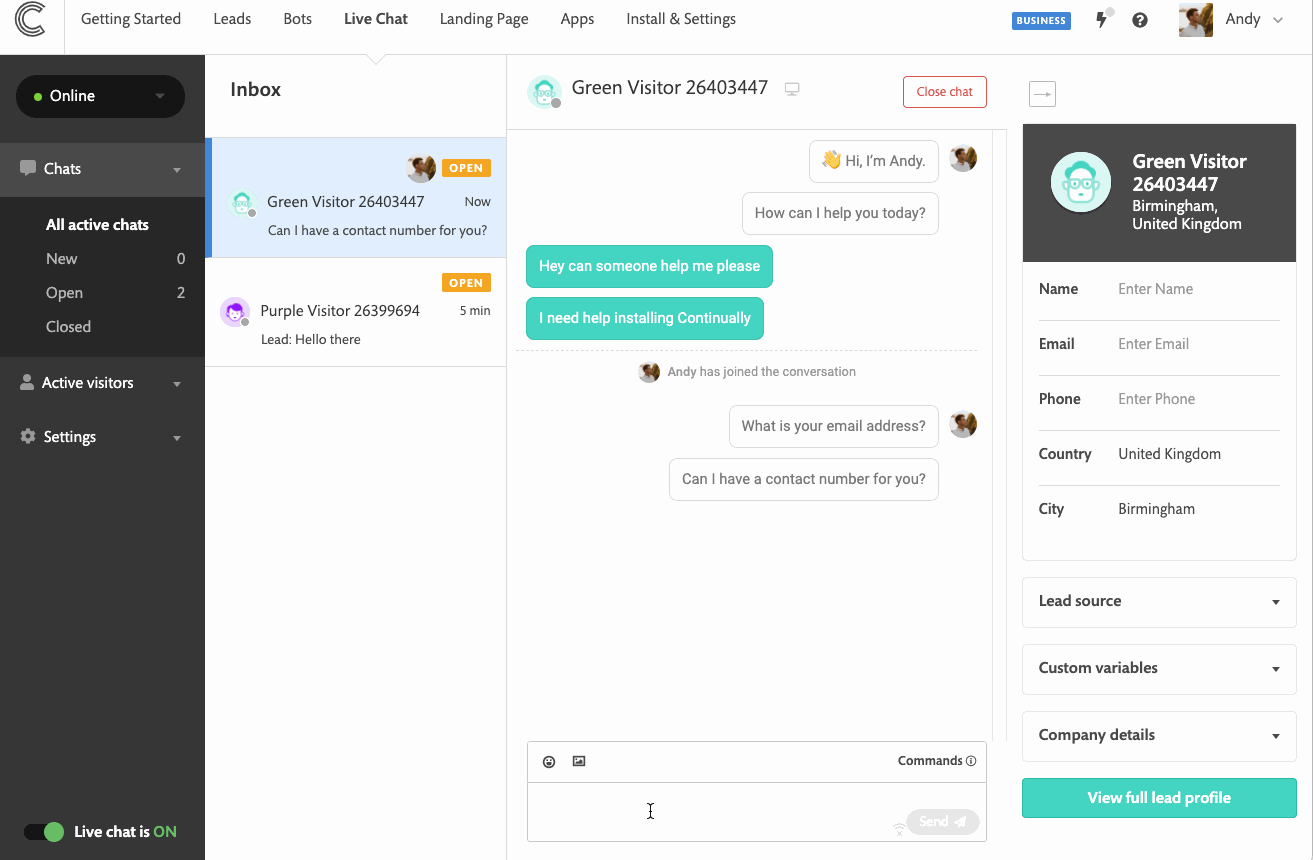 Edit lead profile whilst in the live chat
In our new live chat section, we added a lead profile section for you to see any captured information on your visitor. You will be able to update the lead profile in the live chat section, whilst chatting with the visitor. Once you enter a new detail you can hit the return key and we will automatically save your change.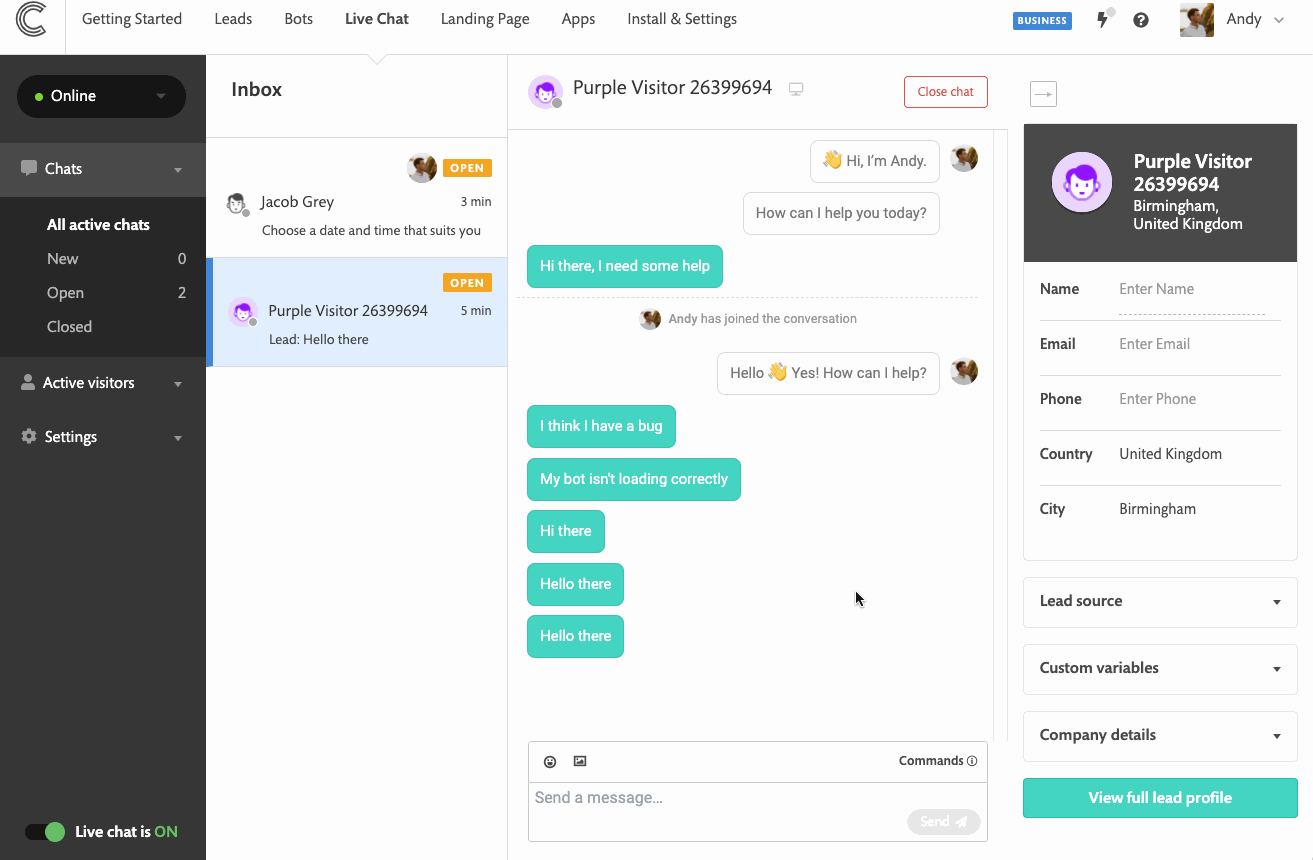 Active visitors - See any visitors using your bots.
In the new live chat section in the left navigation, you can see an option for Active visitors.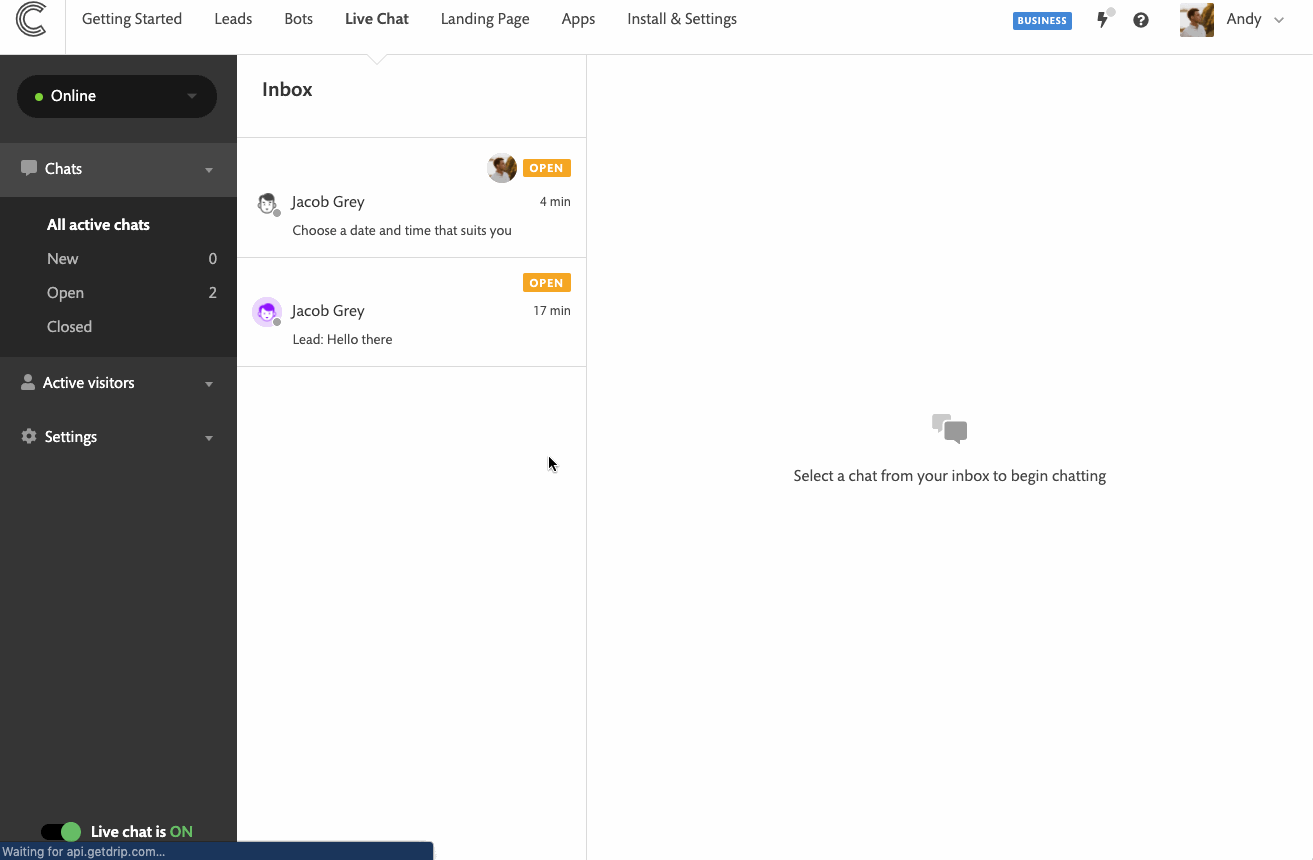 What is Active visitors?
Active visitors is a list of all the visitors on your site who have engaged with your bot. They can either be known or anonymous.
Why is this useful?
On the Active Visitors section, you are able to jump into their conversation at any time whether they requested live chat or not. This means you can qualify a lead and capture their email address with the bot and then take over that conversation in live chat.
How long do visitors stay as active visitors?
Each of your visitors who engage with your bots will remain in your Active Visitors inbox for 24 hours.