Mailchimp: Connect Continually to Mailchimp
Add captured leads to your Mailchimp lists
You can pass any lead information you have captured with Continually over to your Mailchimp lists.
In this article we cover:
How to Connect your Mailchimp account
To start this section you need to sign into your Continually account and go to Apps page.
1

Find the Mailchimp app on the apps page and click on the connect button

2

This will take you to an authentication step where you will need to sign into your Mailchimp account

3

Once you have signed into your Mailchimp account you will be directed back to the Continually app. Next you will need to choose which Mailchimp list you want to send your leads to. Then you can choose whether you want all your bots to send lead information or choose specific bots.
You can also choose whether you want to sync your exisiting leads with the list.

Note: Syncing all existing leads will send all previously captured lead from all your bots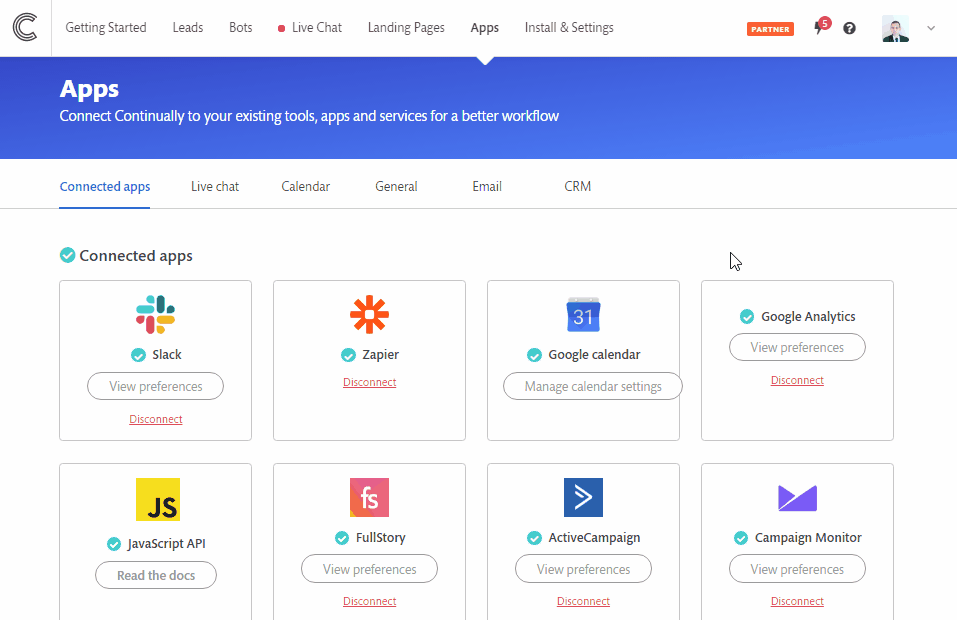 How to specify which bots send lead data
You can start this by going to your Mailchimp preferences page.
1

Click edit preferences and then choose Select bots

2

From the dropdown then select which bot you want to send the lead data.

3

Click save and your good to go!

How to sync Continually tags to Mailchimp tags

There are two options to sync Continually tags to Mailchimp:

1. Map Continually tags to Mailchimp : We will check the leads' tags and find them in Mailchimp, if found we will add the leads to it, if not we will create a new tag and add the lead to it.

2. Select Specific tags : Choose this option and select a specific tag in Mailchimp which we will add the leads for this selected list to it. You will also be able to map Continually tags as a custom variable into Mailchimp.